---
We will leave it up to the reader to determine whether Senator John Barrasso has made serious errors in in judgment. John Barrasso has supported a Conservative Far Right Christian position especially when it comes to Church and State issues. It is apparent from the data collected, that the first amendment may be in danger from his past and future actions as well as other constitutional sections. He has supported deregulation of banks and the SEC causing the current economic Depression.
John Barrasso's office stated that his position is that Certain Religions aren't "Real" religions. What is a real religion, Mr. Barrasso? What you have been practicing? He says on the one hand that only certain Christian denominations are valid. Read the following and remember: "By their Works may they be known." This is a summary of information collected from several sources about John Barrasso.
(Remember it is best to investigate on your own when looking at allegations about anyone. Don't believe us, think for yourself and investigate for yourself! And remember, the First Amendment Coalition and Religious Freedom Coalition of the South East do not represent any political party nor do we recommend any political candidate, nor are we involving ourselves in the political process.)
---
---
Fox News's Shepard Smith Goes After Sen. John Barrasso On Public Option
Recently, Fox News's Shepard Smith demonstrated some of that trademarked independent thinking that so often gets him in dutch with the cable network's most dedicated viewers, when he took on Senator John Barrasso (R-Wyo.) and offered up some serious-minded and well-informed pushback on the public option. His initial response, for my money, is rich with substance and exceedingly well-expressed:
SMITH: Over the last ten years health care costs in America have skyrocketed. Regular folks cannot afford it. So, they tax the system by not getting preventative medicine. They go to the emergency room in the last case and we all wind up paying for it. As the costs have gone up, the insurance industry's profits, on average, have gone up more than 350%. And it is the insurance companies which have paid, and who have contributed to Senators and Congressmen on both sides of the aisle to the point where now we cannot get what all concerned on Capitol Hill seem to believe and more 60% of Americans say they would support, which is a public option. This has been an enormous win for the health-care industry, that is an unquestioned fact. But I wonder, what happens to the American people when we come out with legislation now which requires everyone to have health care insurance -- or many more people -- but does not give a public option? Therefore millions more people will have to buy insurance from the very corporations that are overcharging us, and whose profits have gone up 350 percent in the last ten years. It seems like we the people are the ones getting the shaft here.
Barrasso's response to this is to limply offer up the criticism that "we have not allowed the American people to read the bill," which to my knowledge, does not contain a section entitled, "Oh By The Way, We Are All In Bed With Lobbyists, Like Whores." Smith continues to press the point: "But with every vote against the public option is a vote for the insurance companies, sir, it is."
As much as I appreciate Smith for some informed support of the public option, it's a far rarer thing to see someone in the media, anywhere, who's willing to pin the blame for the degradation of the health care reform package on the toxic relationship between legislators and lobbyists. The only thing that would improve on this exchange would be for Shepard Smith to levy the same charges at Max Baucus or Kent Conrad, who, unlike John Barrasso, are actually relevant to the debate. But, hey, you go to war against the idiots that show up, I guess!
---
---
SEN. JOHN BARRASSO (R-Wyo.)
Do you prepare your own taxes? Declined to answer.
If not, who does? Declined to answer.
Have you or the IRS ever discovered an error on a tax return you've filed? Declined to answer.
Have you ever paid back taxes? Declined to answer.
If the answer to either 3 or 4 is yes, please explain.

Declined to answer.
---
John Anthony Barrasso (born July 21, 1952) is the junior U.S. Senator from Wyoming. A Republican, he was appointed by Democratic Governor Dave Freudenthal to succeed the late Craig L. Thomas, taking office on June 25, 2007. He won a special election in 2008 to fill the remaining four years of Thomas's term.
Early life and family
Barrasso was born in Reading, Pennsylvania in 1952. He is a 1970 graduate of Central Catholic High School in Reading, PA. He began his college career at Rensselaer Polytechnic Institute (where he became a member of Phi Kappa Tau Fraternity) and transferred to Georgetown University in Washington, D.C., graduating with a bachelor of science degree in 1974. He also received his M.D. degree from Georgetown University School of Medicine in 1978. He conducted his residency at Yale Medical School in New Haven, Connecticut.
Barrasso has three children — Peter, a senior at Georgetown University; Emma, a junior at Rose-Hulman Institute of Technology; and Hadley, a junior in high school. He is divorced from Linda Nix. On January 1, 2008, he married Bobbi Brown of Casper, Wyoming.
Political career
Barrasso previously ran unsuccessfully for the Republican nomination for the U.S. Senate in 1996 for the seat vacated by Alan K. Simpson, the moderate Republican from Cody. In 1996, Barrasso lost the primary election to Mike Enzi, who now serves alongside Barrasso in the U.S. Senate. Enzi defeated Barrasso 33-32 percent in a seven-way primary.
Barrasso was elected to the Wyoming Senate in 2002 and reelected in 2006. While in the Wyoming Senate, he was the Chairman of the Transportation and Highways Committee. He is a board-certified orthopedic surgeon in private practice in Casper.
Barrasso was chosen on June 22, 2007, by Democratic Governor Dave Freudenthal to replace the late U.S. Craig L. Thomas. Freudenthal was, as required under Wyoming state law, able to consider only three individuals whose names were submitted to him by the Republican State Central Committee because the seat was vacated by a Republican. The rejected choices were former State Treasurer Cynthia Lummis of Cheyenne and former Republican State Chairman and lobbyist Tom Sansonetti, a former aide to Thomas. Matt Mead, grandson of former Senator Clifford P. Hansen, had also sought the nomination but was eliminated by the central committee in fourth place. When he was appointed, Barrasso indicated that he would also run in the November 2008 special election to fill the remainder of Thomas's term. Barrasso eventually won that special election with more than 73 percent of the vote.
2008 U.S. Senate Special Election
Barrasso announced on May 19, 2008, that he would run in the general election in 2008 to serve the remainder of Thomas's term (though he had already stated that intention before his appointment). Tom Sansonetti, one of the three GOP nominees for Thomas's seat, said he would not challenge Barrasso for the seat in the 2008 primary. The other nominee, Cynthia Lummis, was a candidate for the Republican nomination to replace retiring U.S. Representative Barbara Cubin for the state's at-large seat in the U.S. House of Representatives. The filing deadline in Wyoming was May 30, 2008, and as of that date Barrasso had not drawn a primary opponent. The Democratic nominee was Nick Carter, a lawyer from Gillette. Pundits unanimously rated the race "Safe Republican." As expected, Barrasso won the general election in a landslide, garnering 73% of the vote.
Medical career
In addition to his private orthopedic practice, Barrasso is Chief of Staff of the Wyoming Medical Center, State President of the Wyoming Medical Society, President of the National Association of Physician Broadcasters, and a member of the American Medical Association Council of Ethics and Judicial Affairs.
Barrasso is also a rodeo physician for the Professional Rodeo Cowboy's Association (and a member of the "Cowboy Joe Club") and volunteers as a team physician for Casper College as well as several local high schools. He has also been awarded the "Wyoming Physician of the Year." He has been awarded the "Medal of Excellence" by the Wyoming National Guard for his services to the National Guard as well. Barrasso also received the "Legislative Service Award" from the Veterans of Foreign Wars (VFW) for his support of Wyoming's veterans.
Other activities
Barrasso is also a member of the Board of Directors of Presidential Classroom, a nonprofit, nonpartisan organization that brings young people to Washington, D.C. to learn about government. Barrasso is a member of the Casper Chamber of Commerce and the Casper Rotary Club.
Barrasso is a perennial local host for the Jerry Lewis Telethon (with more than 20 years of service) and a frequent guest on Utah Public Television and the Casper ABC affiliate, KTWO-TV, where he offers commentary on a wide range of medical topics. He is author of a regular newspaper column, "Keeping Wyoming Healthy," and is particularly known for his senior and elder care including, among other things, writing a series of monthly articles on senior fitness, care, and prevention entitled, "Caring for Wyoming's Seniors."
Marriage to Bobbi Brown
On August 11, 2007, during Cheyenne's annual Race for the Cure, Barrasso and Bobbi Brown, herself a breast cancer survivor and the state director for Barrasso's Senate office, announced that they would marry. Once the two were engaged, Brown resigned her position in Barrasso's Senate office.
The two have known each other for 25 years and have been dating for five years. They had discussed marriage before, but Barrasso's recent appointment to the U.S. Senate underscored the need to tie the knot. They were married on January 1, 2008, with their children in attendance in Thermopolis.
Brown has a 16-year old daughter from a previous marriage, while Barrasso has two children from his previous marriage to Linda Nix.
Political views
Barrasso is considered a conservative, though in 1996 he ran for the Wyoming Senate as a pro-choice, social moderate. During his career in the Wyoming Legislature, he moved to the right on abortion issues and sponsored legislation designed to provide restrictions on receiving the procedure. He has received an "A" rating from the National Rifle Association. According to a Washington Post survey, he has voted with Republicans 94 percent of the time.
Barrasso was quoted as saying, "I believe in limited government, lower taxes, less spending, traditional family values, local control and a strong national defense," and said he has "voted for prayer in schools, against gay marriage and [has] sponsored legislation to protect the sanctity of life".
Barasso joined Wyoming colleague Mike Enzi in endorsing the nomination of Richard Honaker of Rock Springs to the U.S. District Court in Cheyenne. The selection has been pending in the Senate Judiciary Committee since 2007.
---
T
HE

H

ILL

AGGREGATES

SENATOR

BARRASSO'S RATINGS AS A LAWMAKER

The Hill has launched a new research tool to provide insight into the ideologies and voting records of every member of Congress.

Using scores tagged to each lawmaker by 30 different advocacy organizations, The Hill has created a Lawmaker Ratings service — an easy reference where site visitors can check where elected representatives stand on different issues.

There's a separate page for each of the 100 senators and 435 members of the House of Representatives. On each, The Hill has aggregated all the advocacy organizations' scores. It means people in government and other visitors can see the track records of any member of Congress on 13 broad issues with a one-stop shop at thehill.com .

This reference tool, updated whenever a new member arrives on Capitol Hill or an organization produces a new set of ratings, is available free at thehill.com

Excerpts from an article on thehill.com The number ratings of Senator Barrasso are from zero to 100, which is the scale used by most advocacy organizations. Where a letter rating is used, the range is from A to F.
| | | |
| --- | --- | --- |
| Issue | Organization | Rating |
| Abortion | NARAL Pro-Choice America | 0 |
| | National Right to Life Center | 100 |
| Civil Rights | ACLU | 0 |
| | Human Rights Campaign | 0 |
| Ideology | American Conservative Union | 100 |
| | Americans for Democratic Action | 5 |
| | Drum Major Institute | F |
| | Family Research Council | 100 |
| Children | Children's Defense Fund | 33 |
| Environment | League of Conservation Voters | 9 |
| Immigration | Numbers USA | A+ |
| | U.S. Border Control | NR |
| Public Health | American Public Health Association | 14 |
| Senior Citizens | Alliance for Retired Americans | 20 |
| | | |
| --- | --- | --- |
| Issue | Organization | Rating |
| Business and Labor | AFL-CIO | 5 |
| | National Education Association | F |
| | AFSCME | 0 |
| | BIPAC | 92 |
| | Chamber of Commerce | 75 |
| | Club for Growth | NR |
| | National Federation of Independent Business | 75 |
| Taxes & Spending | Americans for Tax Reform | 78 |
| | Citizens Against Government Waste | 82 |
| | National Taxpayers Union | 91 |
| | | |
| --- | --- | --- |
| Issue | Organization | Rating |
| Defense and Peace | Council for a Livable World | 0 |
| | Center for Security Policy | 100 |
| | Friends Committee on National Legislation | NR |
| | Peace Action | 20 |
| Guns | Gunowners of America | A |
| | Brady Campaign to Prevent Gun Violence | 0 |
---
DOES JOHN BARRASSO AND THE REPUBLICAN PARTY SUPPORT RAPISTS AND OTHER CRIMINALS?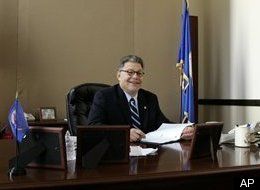 I think that all homo sapiens can understand how the mere thought of an organization that receives government money through contract mechanisms being tangentially involved in setting up a fake tax shelter for a fake pimp and his fake prostitution ring of fake prostitutes can justifiably lead to lawmakers going absolutely cross-eyed with white-hot, impotent rage. But what happens when a similarly taxpayer-endowed contractor attempts to cover up employee-on-employee gang rape by locking up the victim in a shipping container without food and water and threatening her with reprisals if she report the incident? Somehow, it doesn't engender the same level of anger!
30 misogynist Republicans in the U.S. Senate including Senator Barrasso, are totally OK with rape, at least where women are concerned. Predictably in yet another routine attempt to serve their corporate masters, (this time the GOP stood by Halliburton) Republicans voted against women and for corporate contempt of rape victims.
Some Republican senators are taking heat for voting against an amendment that would allow employees of military contractors to sue their employers if they are raped at work -- and they want the Democratic senator who wrote the amendment to help them fight off the bad publicity.

In October, 30 Republicans voted against Sen. Al Franken's amendment to a defense appropriations bill that would de-fund contractors who prevent their employees from suing if they are raped by co-workers. Since then, those Republicans have faced outrage for what critics say amounts to support for rape.
Instead of standing up to take responsibility for or clarifying their disgraceful votes, Republican cowards are instead attacking Al Franken, blaming him for their votes.
Sen. John Cornyn (R-TX) accused Franken exploiting the story of Jamie Leigh Jones -- a former KBR employee who says she was locked in a container in Iraq after alleging she was raped by co-workers -- to further his political agenda.

"Trying to tap into the natural sympathy that we have for this victim of this rape --and use that as a justification to frankly misrepresent and embarrass his colleagues, I don't think it's a very constructive thing," Sen. John Cornyn (R-Texas) said in an interview.
I guess Franken held a sledge hammer over Cornyn's head and said if he did not vote against the anti-rape amendment Franken would crack it over his head.
What shameless cowards.
To summarize the Republican position: As women, we are not "average Americans," and gang rape is not a "serious" issue. As women, no matter how powerful we become on our own merits, the Republican establishment will still be hoping for a man to come along and put us in our place.
Not every Republican signs onto these views -- indeed, 10 Senate Republicans voted for the Franken amendment, giving the lie to the NRSC's claim of partisanship -- but this is the undercurrent of the party's policies. This is what they're hoping to get voters to overlook when they run a Sarah Palin or a Kelly Ayotte for office. This is why Bob McDonnell's campaign for Virginia governor has been such a popular campaign stop for 2012 prospects: because of, not despite, his opposition to marital contraception and women in the workplace. This is why David Vitter (who voted against the Franken amendment) is still a senator in good standing with the party of alleged sexual morality.
You don't have to go very far beneath the Republican surface claims of equality-but-not-really to get to the rock-bottom sense that women just don't count, that our rights and our wellbeing are always subordinate to whatever interest of men they might conflict with. When it comes to it, even the (themselves sexist) notions of chivalry and protecting women come behind protecting the right of corporations to imprison their female employees to shield their male employees from rape charges and still get government contracts.
Credit new Senator Al Franken however, for
introducing an amendment to the Defense Appropriations bill that would punish contractors if they "restrict their employees from taking workplace sexual assault, battery and discrimination cases to court." You'd think that this would be a no-brainer, actually, but that didn't stop Jeff Sessions from labeling Franken's effort a "political attack directed at Halliburton." Franken, of course, pointed out that his amendment would apply broadly, to all contractors, because otherwise, 'twould be a bill of attainder, right? Right?
Franken's amendment ended up passing, 68-30. Here's a list of the Senators who showed broad support for Rapists and Pedophiles by voting against it: (Click on their names to find out more about them).
Read more at: http://www.huffingtonpost.com/2009/10/07/meet-the-senators-who-vot_n_312976.html
---
---

The below Right Wing Individuals and Groups have made statements and performed activities which by some standards would indicate that they hate the United States of America..
Doug Lamborn | Elizabeth Dole | James Dobson | Cheney | Richard Devos | Jim Demint | David Barton Mike Crapo | Ann Coulter
John Cornyn | Robert Corker | Coors Family | Constitutional Republic Conservative Brain Difference | Senator Coburn
Christians Destroying the Bible | Chambliss | Tucker Carlson | Eric Cantor | Harold Camping | Ken Calvert | Herman Cain | Burton
Richard Burton | Senator Bunning | Brownback | Breitbart | Bond | Boehner | Blunt

| Big oil | Baucus | Barrasso | Barbour
Bachus | Bachmann | Are You Going to Hell | Apocalypse | Anatomy of Religious Right | American Action | Lamar Alexander
Senator Ensign | Mike Enzi | Epic Failure | Jerry Falwell | The Family | The Far Right Real Purpose | Vito Fossella | Fox News II
Senator Gordon Smith | Sen Lindsey Graham | Chuck Grassley | Senator Judd Gregg | Republican Hall of Shame | Sean Hannity
Health Care Reform | Rep Wally Herger | How to Fix Bush's Mess | Huckabee | Senator Inhofe | Iraq War | Johnny Isakson
Jeb Bush | Bobby Jindal | Johanns | John Yoo | Sally Kern | Senator Kyl | Tim Lahaye | Leinenger | Fred Lennon
Liberal Blogs | Loathsome | Trent Lott | Marrs | Chris Matthews | Patrick McHenry | Dick Morris | News Max | Newt Gingrich
Bill O'Reilly | Paleoconservative | Patriot Movement | Patriot Traitors | Tim Pawlenty | Mike Pence | Risch | Senator Roberts
George Roche | Romney | Ronald Regan Fantasy | Rick Santorum | Scandals | Scott Walker | Sociopaths | Bart Stupak
The Wrath of Fools | U.S. Chamber | Frank Vennes | Woodall | Wicker | Bondage Gate | Christie | Jerome Corsi | Ken Cuccinelli
Mitch Daniels | David Barton | Hijack of Christian Church | The Religious Right Hates America | Dirtiest Politicians | Nikki Haley
Rand Paul | Paul Ryan | Russell Pearce | Rick Perry | Dantes Inferno | Clarence Thomas
Return to the Religious Freedom Homepage

To Donate by Credit Card click on the Button Below

Thank You for Whatever you can do.

---

If you are interested in Spiritual Enlightenment...Click HERE or on the Red Dragon Below. You will be taken to a page which will reveal the gateway to becoming Enlightened.

Click on the below image and read the Quest - you will discover the secret Grail of Immortality. Then click on and read the Way and finally The Word. The three books are available in

Kindle format. Go to Barnes and Noble for Nook format.
---